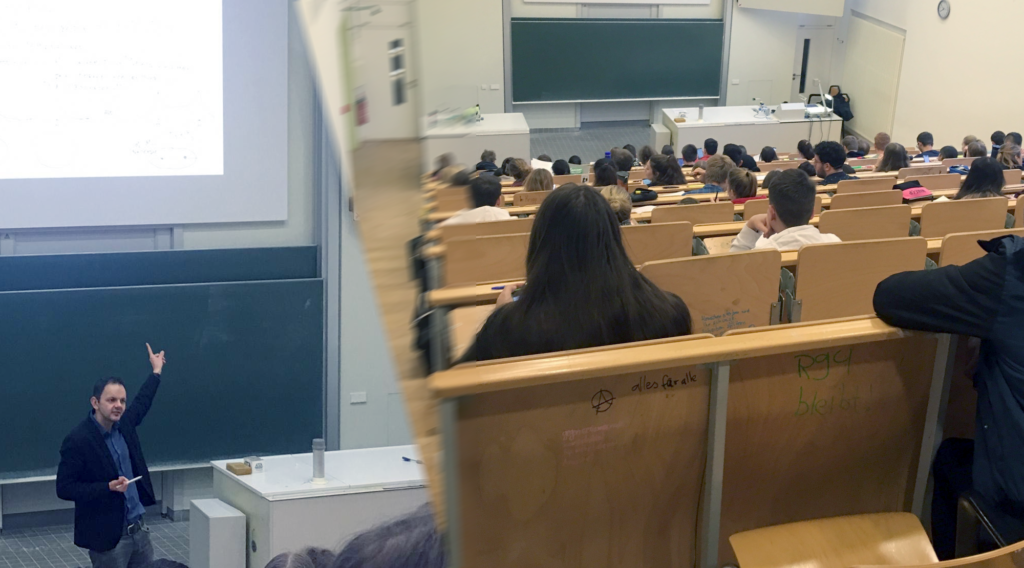 Lectures
Winter 2021/22 – 5CCC0035 Physical Chemistry 2
Summer 2021 – 4CCC015 Organic Chemistry 2
Lecture 1 – Radicals and Polymerisation [Download]
Lecture 2 – Radicals and Polymerisation [Download]
Lecture 3 – Radicals and Polymerisation [Download]
Lecture 4 – Radicals and Polymerisation [Download]
Lecture 1 – Synthesis [Download]
Lecture 2 – Synthesis [Download]
Lecture 3 – Synthesis [Download]
Lecture 4 – Synthesis [Download]
Lecture 5 – Synthesis [Download]
Lecture 6 – Synthesis [Download]
Winter 2020/21 – 6CCC0010 Advanced Topics in Synthesis & Reactivity
Summer 2020 – 2020200151 Organische Chemie für Biologen und Biophysiker (B.Sc.)
Winter 2019/20 – 2020195020 Organische Chemie der Materialien [WOC3]
Heft 1 – Copolymere und Taktizität [Download]
Heft 2 – Supramolekulare Polymere [Download]
Heft 3 – Konjugierte Polymere und Oberflächensynthese [Download]
Heft 4 – Ringförmige Polymere [Download]
Winter 2019/20 – 2020195039 Allgemeine und Anorganische Chemie (AAC)
Kursführer 2019/20 [Download]
Heft 1 – Energetik und Kinetik chemischer Reaktionen [Download]
Resumé der Mathematik für Chemiker [Download]
Evaluation [Download]
Winter 2018/19 – 20283 Allgemeine und Anorganische Chemie (AAC)
AAC 2018-19 Vorlesung [Download]
AAC 2018-19 Begleitfolien [Download]
Heft 1- AAC 2018-19 Energetik und Kinetik chemischer Reaktionen [Download]
Resumé der Mathematik für Chemiker [Download]
Summer 2017 – New Synthetic Methods – MC270P85
Winter 2016/17 – Organic Chemistry II – MC270P81
Course Guide 2016/17 [Download]
Winter 2016/17 – Organic Functional Materials – MC270P88
Summer 2016 – New Synthetic Methods – MC270P85
Course Guide 2016 [Download]
Winter 2015/16 – Organic Chemistry II – MC270P81
Summer 2015 – New Synthetic Methods – MC270P85
Winter 2014/15 – Organic Chemistry II – MC270P81
Mock exam paper 28/12/2014 [Download]
Comprehensive Manuals
Prediction of gas adsorption selectivity by ideal adsorption solution theory (IAST) [Download]
Ideal adsorption solution theory (IAST) fitting and analysis performed with commercial scientific graphing and data analysis software (Wolfram Mathematica 9.0 and Microsoft Excel) based on [J. Am. Chem. Soc. 2011, 133, 5664-5667]. Supporting Material: IAST_spreadsheet_KrXe.xlsx
Follow your journals using RSS and Yahoo! Pipes [Download]
Stay on top of the newest developments in your field using Yahoo! Pipes to aggregate and filter RSS feeds.
Outreach
Reports
Analysis of Carbodeon's Nicanite®, March 2013 [OPEN ACCESS]
Data Book
A collection of formulae, constants and conversions useful in Chemistry. Dr James Keeler and the University of Cambridge, Department of Chemistry are acknowledged for compiling the bulk of this booklet and making it available online.